Cities play a vital role in social and economic development. Efficient and productive cities are essential for national economic growth and equally strong urban economics are essential for generating the resources needed for public and private investments in infrastructure, ial facilities, improved living conditions and poverty alleviation.
Environmental degradation is a threat to economic development. The urban challenge put forth before us is to sustain the environmental quality and make the city livable with optimum standards. The level of civic services have to be improved by better planning, management and maintenance of the basic amenities, which could be achieved by channelising the investments in the right direction.
Every citizen has his/her own perception about the city where one lives. The possible improvements that can be reasonably expected in the standard of life of the citizens of Corporation of Chennai due to the proposed Infrastructure Investment Plan are:
Well laid out roads with parking facilities
Encrachment free pedestrian friendly footpaths
Eco-friendly environment
Reduced pollution level
Hassle free traffic amenities with necessary road furniture's for public and private transport
Higher standards of living
Chennai City

Chennai City is the biggest and important urban agglomeration in TamilNadu. This City portrays both historical and modern contemporary Indian culture.

It stretches nearly 43 kms along the coast of Bay of Bengal from Uthandi the erstwhile village panchayat in the south, to Kathivakkam the erstwhile municipality in the north. It has Bay of Bengal as eastern boundary and remaining three sides are surrounded by Kancheepuram and Thiruvallur Districts.

Chennaipattinam, a tiny village on the east coast of India, has transformed into a magnificent city, which is now the fourth largest metropolis in the country. It can be best described as a city with a unique and harmonious blend of tradition and modernity. The city was established in the 17th century by the British, who developed it into a major urban agglomeration.

By the 20th century, it had become an important administrative centre, as the capital of the Madras Presidency. The East India Company issued a charter constituting the "Town of Fort St.George" and all the territories there unto belonging, not exceeding the distance of ten miles from the Fort, into a Greater Chennai Corporation on 30th December 1607.

The Corporation of Chennai was established on the 29th September 1688. The Parliamentary Act of 1792 gave the Corporation, the powers to levy municipal taxes in the city. The Chennai City Municipal Corporation, Act, 1919 provides the basic statutory authority for the administration of the City.
Expansion of the limits of the Corporation
The city has been growing both in size and population. The number of territorial Divisions have grown from 30 with 68 Sq.km in 1901 to 200 divisions with 426 Sq.Km in 2011.The population of the city has gone up from 5.40 lakhs in 1901 to approximately 65 lakhs in 2011. The boundaries of Chennai city with an extent of 174 sq.km. were fixed in 1978. The Chennai Metropolitan Area (CMA) has experienced rapid growth in the past years and the Corporation encounters multidimensional challenges. It is therefore imperative on the part of the local bodies to provide suitable infrastructure to keep pace with the growing demand. The level of services provided by the local bodies in the CMA varies to a large extent. The capacity to effectively deliver these services can be catered better only by an organized urban local body like a Municipal Corporation, instead of a cluster of Municipalities, Town Panchayats and Village Panchayats.
Therefore, the Government decided to expand the boundaries of the Corporation from 174sq.km to an extent of 426 sq.km by amalgamating 9 Municipalities, 8 Town Panchayats and 25 Village Panchayats adjacent to the Chennai and issued orders in G.O. (MS) No.256, MA & WS (Election2) Department dated 26.12.2009 and G.O. (MS) No.280, MA & WS (Election) Department dated 09.11.2010.
Town Panchayats
| S.No | Panchayat | Panchayat Union | District |
| --- | --- | --- | --- |
| 1 | Edayanchavadi | Minjur | Thiruvallur |
| 2 | Sadayankuppam | Puzhal | Thiruvallur |
| 3 | Kadappakkam | Puzhal | Thiruvallur |
| 4 | Theeyambakkam | Puzhal | Thiruvallur |
| 5 | Madhur | Puzhal | Thiruvallur |
| 6 | Vadaperumbakkam | Puzhal | Thiruvallur |
| 7 | Suruppattu | Puzhal | Thiruvallur |
| 8 | Kathirvedu | Puzhal | Thiruvallur |
| 9 | Puthagaram | Puzhal | Thiruvallur |
| 10 | Nolambur | Villivakkam | Thiruvallur |
| 11 | Karambakkam | Villivakkam | Thiruvallur |
| 12 | Nerkundram | Villivakkam | Thiruvallur |
| 13 | Ramapuram | Villivakkam | Thiruvallur |
| 14 | Mugalivakkam | Kundrathur | Kancheepuram |
| 15 | Manapakkam | Kundrathur | Kancheepuram |
| 16 | Kottivakkam | St.Thomas Mount | Kancheepuram |
| 17 | Palavakkam | St.Thomas Mount | Kancheepuram |
| 18 | Neelangarai | St.Thomas Mount | Kancheepuram |
| 19 | Injambakkam | St.Thomas Mount | Kancheepuram |
| 20 | Karapakkam | St.Thomas Mount | Kancheepuram |
| 21 | Okkiyam Thuraipakkam | St.Thomas Mount | Kancheepuram |
| 22 | Madipakkam | St.Thomas Mount | Kancheepuram |
| 23 | Jaladampettai | St.Thomas Mount | Kancheepuram |
| 24 | Semmancheri | St.Thomas Mount | Kancheepuram |
| 25 | Uthandi | St.Thomas Mount | Kancheepuram |
Further, the Government issued orders for delimitation and expansion of Chennai with two hundred territorial divisions vide G.O. (MS) No.97, MA & WS (Election) Department dated 19.07.2011 and G.O. (MS) No.121, MA & WS (Election) Department dated 30.08.2011 and 15 Wards Committees ( which will be the Zones ) vide G.O. (MS) No.136, MA & WS (Election) Department dated 12.09.2011.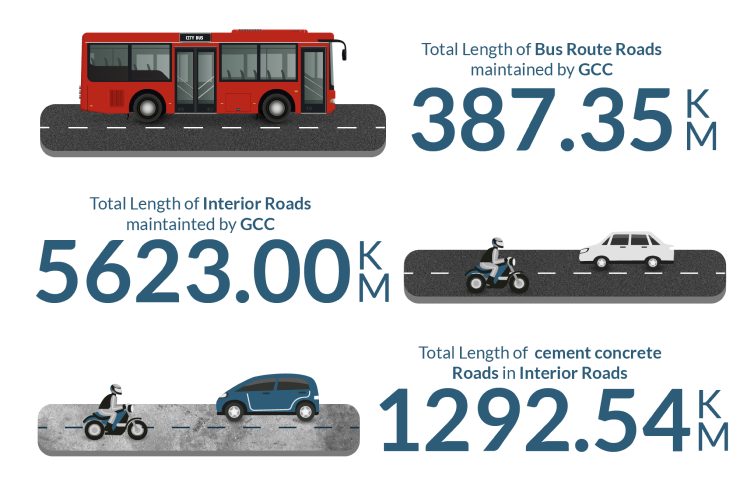 Greater Chennai Corporation strives to keep the roads in good condition by carrying out periodical maintenance works as well as strengthening & resurfacing the carriageway
Roads:
     The Greater Chennai Corporation maintains 471 Bus Route Roads to a length of 387 km and 34640 interior roads to a length of 5,270.33 km.

Bus Route Roads
Bus Route Roads Department of the Greater Chennai Corporation maintains and improves Bus Route Roads periodically.The Bus Route Roads are being re-laid once in 5 years using sensor paver finishers.  The relaying of Bus Route Roads consists of laying Compacted Bituminous Concrete (CBC) 40mm thick wherever the existing base is badly damaged the road is strengthened by laying base course with Dense Bituminous Macadam (DBM) 50mm thick. Mix required for the relaying work are prepared by the contractors in their centralized Asphalt plant located in the outskirts of the City and brought to the site by tipper lorries, and laid at the site using sensor paver finisher and rolled with vibrator rollers, static rollers and pneumatic rollers.  This makes it possible to achieve uniform and smooth riding surface. 
The process of laying roads in this manner is also very fast and causes less hindrance to traffic.  In order to avoid traffic disturbances, Bus Route Roads are normally laid during the night hours and is opened to traffic in the next morning.  The entire process of relaying Bus Route Roads is being carried out in accordance with the specifications of Ministry of Road Transport and Highways (MORTH).
To monitor, execute and to assure quality and to certify for the payments of all the road works, reputed Project Management Consultants are engaged.
All the bus route roads have been milled to ensure that the height of the road do not increase. Sophisticated machines are used to relay the road to ensure ride quality.
All the Bus Route Roads are paved with 9 meter (30 Feet) electronic sensor road laying paving machines to give the best finish and riding quality. 
All the finished roads are painted with thermoplastic reflective lane marking and studs for the safety of the road users and for lane discipline. All other road improvements namely providing tree grating, water  table, silt catch pit, speed breaker and signage boards  to give an enhanced riding performance on par with the best roads laid anywhere in the world.

Mastic Asphalt:
Mastic Asphalt concrete is capable of withstanding the force generated when brakes are applied by heavy vehicles and the force generated due to initial wheel momentum.  Mastic asphalt is generally used for damp proof course and water proof layer.
Patches and Potholes:
Apart from periodical relaying of City Roads, the patches arising out of the road cuts made by the Service Departments and due to inundation of rain water during rainy season are being attended immediately by using bituminous cold mix, cement concrete and bituminous hot mix.
Road cuts:
For making any road cuts in Bus Route Roads or Interior roads, the Service Departments have to get permission from Greater Chennai Corporation after remitting the necessary Road cut Restoration Charges.  Though utmost care has been taken for relaying of the city roads, the main problems faced by the Greater Chennai Corporation is the frequent road cuts made by several service departments such as CMWSSB, TNEB, BSNL, Private Communication Providers, etc.,
Cement Concrete Roads:
The total length of Cement Concrete Roads available in Chennai is 1273.88 kms.  Though the initial cost of the cement concrete roads is found to be high it is totally free from maintenance and have a larger life span of 20 to 25 years.
Footpaths
Greater Chennai Corporation is the first Municipal Corporation in India to adopt and implement Non-Motorised Transport (NMT) Policy. Greater Chennai Corporation has undertaken a project for widening the footpaths from 5 feet to 10 feet to promote Non Motorised transport which will reduce Pedestrian-vehicle conflict, pollution and traffic congestion. To ensure the safety of pedestrians, especially the vulnerable sections of the society such as elderly, women, children, students and differently-abled, the Corporation has completed footpath improvement works along 107 Bus Route Roads to a length of  170 Km at an estimated  amount Rs.150.34crore.
          For the first time, 107 pedestrian friendly footpaths for the benefit of pedestrians and differently-abled persons were constructed.  The road junctions are connected with table top crossings which also acts as speed breakers.Further providing ramps to the building entrances, wherever necessary, shifting the junction boxes, transformers and other road furniture of service utility departments which acts as hindrances, to the edge of the footpath so as to provide obstruction free footpath. To avoid parking or riding of vehicles in footpaths, cement concrete bollards are being fixed across the footpath.
Footpath so far constructed has brought wide appreciation from all the quarters. Some of these footpaths were verified by the Disability Rights Alliance (DRA) Group and they complimented and welcomed this initiative of Greater Chennai Corporation.
Greater Chennai Corporation has received 5 National level awards and one International award for this project.

Bus Shelters and Traffic Island
The Greater Chennai Corporation maintains 779 nos of Bus Shelters built under various schemes and 637 Bus shelters under Built Operate and Transfer (BOT) Basis, 128 nos Traffic Islands and 173 nos of Center median.