Parks

Chennai city the fourth largest Metropolitan city is a unique harmonious blend of Tradition and Modernity with multistoried buildings of Industrial/ Residential/ Commercial. It has increasing trend of Global Warming and Pollution due to the growth of industries and Vehicles. A green revolution has taken place in the City of Chennai in the form of development of Parks, Traffic Islands, and Centre Medians.

Greater Chennai Corporation has taken up the task of Developing and rejuvenating the greenery of the Chennai city. This major development with emphasis on greenery reduces the carbon-di-oxide content in the atmosphere and allows the citizens to breathe pollution free air. It Provides lung spaces for the city and enable children to play safely and serves as peaceful place for walking entertainments etc.,It also adds aesthetics.
This transformation from a dry city to a green city, the aesthetic delight has brought fresh smiles not only in the faces of the citizens but also to the tourist and floating population of the State's Capital.
The Sponge parks serve as ways to recharge the groundwater level and make urban spaces more permeable. "The capacity of a sponge park depends on the infiltration rate of the soil and the intensity of rain. Excess water is directed to the nearest storm-water drain.

Some of these major parks that serve as lung spaces spread around the city are Anna Park in Royapuram, Secretariate Park in Rajaji Salai, Peramabur Flyover Park in Perambur, My ladies Park in Periamet, Dr.Visweshwariah Tower Park in Anna Nagar, Jai Nagar Park in Koyambedu,May Day Park in Chintadripet, Independence Day Park in Nungambakkam, Mayor sundararao Park in Egmore, Panagal Park,Natesan Park, Jeeva park in T.Nagar, Erikarai park in Nesapakkam, SivanPark(Dr.MGR Park) in K.K.Nagar, Dr.NageshwaraRao Park in Mylapore and Indira Nagar park in Adyar. The Parks which requires developments are rejuvenated as when required. Of these, Independence Day Park, Dr.Visweshwariah Tower Park, Panagal Park, Natesan Park, Anna Park,Sivan Park,Indira Nagar Park have been redeveloped by redesigning with modern landscape designs by Architects having all features of Parks attracting a larger public to use them. The salient features of Parks are Lush Green manicured lawns, beautiful long walk ways Colour full Shrubberies Ornamental Hedges and edges Avenue palm trees Colour full fountains and water cascades, Yoga platforms and Meditation Centers Sitting Gallery, Childrens Playfields with play equipments, Lilly pond, Sitting benches arches and pergolas and Ramp pathways (for differently abled persons). Parks are provided with see through Compound walls to enjoy the beauty of surrounding city while walking or taking rest. Plants such as BougainVilliae, Caesalpinia, Pisonia, Acalypha, Ixora hybrid, Clerodendron, Tabernamontana, DracenaCordiline, Eranthemum, Allamanda, variegated, Graphtophyllum, Aralia varigated, Mussaenda, Thuja, Callistemon, Juniferous, Prichardia Palm, Areca Palm, Song of India, Tecomacapensis Furcrea,Galphemia, Haemelia patterns, celerodenron, Nerium oleander, Tecoma, Euphorbia splendens, and Ficus, are selected for planting. Parks are generally opened to public between 5 am to 9 pm.

Development of Open Spaces

The OSR lands when handed over to Greater Chennai Corporation, the OSR lands are developed into beautiful Parks or Playfields. Large open spaces, which were wasteland, are now being developed into Parks. Open space near Napier bridges, open space near the Turnbulls road junction, Kotturpuram, has been developed as Parks. In Basin Elephant Road, Pulianthope an un-noticed Corporation Land which was encroached by huts and used as a bullock cart yard and also used as an open air toilet was identified and developed into a big beautiful Park bringing a much needed lung space to the congested Pulianthope area.
Chennai river restoration trust
Greater Chennai Corporation, has taken up the project of providing permanent fencing along the river bunds of Cooum and Adyar river after resettling & rehabilitation the project affected families in coordination with Water Resource Department (PWD) and Tamil Nadu Urban habitat development board under Chennai Rivers Restoration Trust Projects.
Adyar River
Formation of maintenance way with 72,660 riverine plantation along the banks of Adyar river from Thiru.Vi.Ka.Bridge to Airport Runway Bridge and Airport Runway Bridge to Nandambakkam Bridge has been taken up at a project cost of Rs.13.78cr., for a length of 12.64 km by planting native spices of trees, sherbs, herbs and mangroves. Plantation works completed and are being maintained for two years
Cooum River
Formation of maintenance way with 49,800 riverine plantation along the banks of Cooum river from Napier Bridge to Maduravoyal Bypass Road has been taken up at a project cost of Rs.7.13cr., for a length of 11.30 km by planting native spices of trees, sherbs , herbs and mangroves. Plantation works completed and are being maintained for two year.
Special Beautification Projects
Greater Chennai Corporation took up beautification of Beaches from Secretariat to war memorial, Napier bridge to light house and in Elliots beach In Marina the entire stretch of 3.2 K.M. beach has been beautified with vast stretch of lawns, 14 Nos of galleries, walkways and attractive lamps, abundant sitting Galleries, beautiful water fountains. Ramp walkways, etc.
Greater Chennai Corporation has installed Sculptures in important Traffic Junction and Vantage Points to depict the Ancient and Traditional cultures of TamilNadu. Also the walls of city in important places are painted with Drawings of Ancient Tamil Tradition adding beauty to the Chennai city.
Traffic Islands
Traffic islands at road junctions have been developed with aesthetics tiles and grills. Plants such as, Pisonia, Acalyphaixora hybrid, Song of India, Tecomacapensis Furcrea Galphemia Haemelia patterns Nerium oleander, Pedilanthus varigated, tabernamontana, DracenaCordiline, Eranthemum varigated Graphtophyllum, Aralia varigated are grown in these islands. Some islands are provided with fountains and ornamental lights. About 113 numbers of traffic islands have been developed.
Central Medians
Centre Medians are built with granite stones and random rubble masonry in all important roads with the middle portion planted with greenery. All the Centre medians in major bus routes are provided with planter boxes and beautified with greenery. Plants such as Ixora, Clerodendron Mini Ixora Tabenamontana, Pisonia, Nerium are planted. About 104 numbers of Centre Medians have been developed and maintained.
Vertical Gardens
Vertical Gardens is a special kind of Urban gardening suitable to small spaces.This is an alternative method for gardening by expanding the scope of growing plants in a vertical space. Green walls are not only spectacularly beautiful but also helpful in reducing the rate of pollution at traffic corridors. About 14 number of vertical garden have been developed and maintained.
Avenue Trees
Avenue tree planting has also been taken up along main roads and streets. Trees such Lagerstromiaindica, Cordiasebestena, Spathodeacampanulata, Tabebuiaavellanedae, Peltophorum, pterocarpum,Delonixregia, Tebebuiarosea, Thespesiapopulnea, Pongamia, Jambulanasp are planted. In order to beautify Chennai city and to enhance green coverage, Greater Chennai Corporation in coordination with Residential Welfare Association have planted 2,86,327 tree saplings from 07.05.2021 to 25.09.2023.
Watering
All the greenery developed by the Greater Chennai Corporation is watered everyday and ensured that they sustain and grow. Bore wells are provided in Parks for irrigating the plants. Water from Bore Wells and through water tankers are used for watering the plants in parks, Traffic islands and Traffic Centre Medians.
In order to spare the ground water for the citizens primary Treated sewer water is taken from the treatment plants of Chennai Metropolitan Water Supply and Sewerage Board through water tankers, collected in sumps and then used for watering the plants at Centre Median and traffic Island.
Play Fields
Greater Chennai Corporation creates and maintains Playfields which are essential for active and passive recreational facilities to the citizens of Chennai. Playfield activities keep the mind and body of an individual healthy. Playfields encourage the youth to take up sports seriously and achieve in life.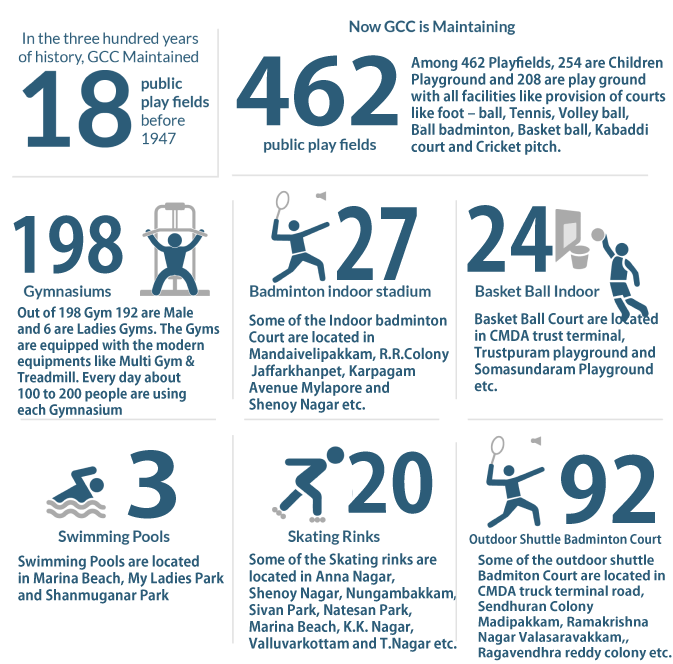 The Greater Chennai Corporation has been extended and new zones have been formed. Therefore many new parks and playfields are developed in the extended area. In the Hon'ble Minister announcement 2022-23, 149 parks and 51 playfields are taken up for development.